Because most of my professional life has been spent as a research biologist and science writer in plant biology, many of my paintings are botanicals. I often work in series. One series of landscape paintings is focused on California Missions. Another series focuses on allegorical and symbolic constructs. Most of the paintings in this series are meditations on the syncretism between ancient concepts and modern reformulations, often inspired by Amerindian sources.  Another series engages with fantasy worlds, including surfer cats, mysterious journeys, and witches whose occupations provide explanations for natural phenomena. It also includes illustrations for my novel (written with my husband, Lincoln Taiz) Libra, the Cat Who saved Silicon Valley.
My most recent science history publication is Flora Unveiled: The Discovery and Denial of Sex in Plants. Also written with  Lincoln Taiz, Flora Unveiled is available through all good bookshops, Amazon, or direct from Oxford University Press. 
Please direct inquiries about paintings or books to this site's comment page.
Botanica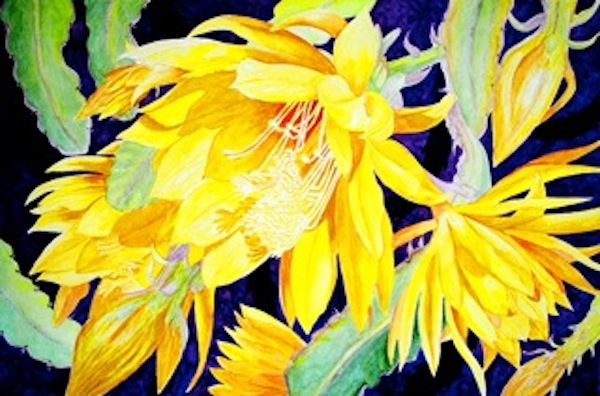 Epiphytic Cactus: Sunrise 
Allegory and Symbolism
Landscape
Fantasy
all images copyright by Lee Taiz.